Half-QWERTY 508 Keyboard
The Half-QWERTY 508 Keyboard gives you the best of both worlds – one-hand and two-hand typing. It's a full-size, standard keyboard that allows you to touch-type with your left hand, your right hand, or both hands. Whatever's more convenient. You decide.
The Half-QWERTY 508 Keyboard uses high-quality rubber dome keyswitches that provide a quiet tactile feel, yet offer enough resistance to hold the weight of your hands and reduce long-term fatigue.
Ideal for One-Handedness, Hemiplegia, Carpal Tunnel Syndrome and Other Hand-Related Injuries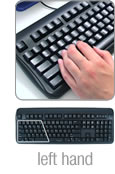 The innovative Half-QWERTY Keyboard from Matias is a standard desktop keyboard that allows those with limited or no use of one hand to continue typing with the other hand in an easy and natural manner.
Carpal Tunnel Syndrome and other typing-related injuries don't always occur in both hands. In cases where only one hand is affected, you can type with the other hand, while the injured one heals. Half-QWERTY's innovative "skill transfer" design makes the transition fast and easy.
Periodic rest breaks should be taken, so as not to risk injuring the uninjured hand.
Blindness
Used in conjunction with a Braille display, Half-QWERTY allows blind and visually impaired persons to read what they type as they are typing it, much as a seeing person would.